Our Review Approach
Our team of seasoned Financial Experts, boasting over a decade of experience in Forex Trading, meticulously assesses all aspects of JustMarkets. This includes scrutinizing trading conditions, evaluating regulations and licenses, examining fees and spreads, exploring platforms, engaging with customer service, and even placing trades to thoroughly understand the offerings. It's through this comprehensive approach that we provide expert insights into JustMarkets.
Pros
Competitive spreads
MT4 and MT5 trading platforms
Multiregulated
Different strategies available
MAM (Multi Account Manager)
Cons
Trading conditions might vary based on the entity
Financial instruments might vary depending on the regulation
Overall JustMarkets Ranking
Based on our analysis, the broker offers an appealing proposal and creates a competitive trading environment with low pricing and spreads for a range of trading instruments. So, we can conclude that JustMarkets is a suitable and reliable broker for traders at various skill levels.
JustMarkets Overall Ranking is 8.5 out of 10 based on our testing and compared to over 500 brokers, see Our Ranking below compared to other industry Leading Brokers.

| Ranking | JustMarkets | VPFX | NCM Investment |
| --- | --- | --- | --- |
| Our Ranking | | | |
| Advantages | Spreads | Trading Conditions | Trading Services |
JustMarkets Alternative Brokers
While JustMarkets offers competitive trading conditions and low spreads, there are other brokers in the market with similar trading propositions. Therefore, we have conducted a comprehensive analysis and compiled a list of the broker's primary competitors for you to consider exploring:
CMC Markets – Wide Range of Trading Instruments
VPFX – Good Trading Services for Professional Trading
NCM Investment – Competitive Trading Conditions
Awards
We found that JustMarkets has been recognized as the Best Broker in Africa by The Ultimate Best Brokers & B2B Fintech Awards 2023. Additionally, in 2022, the broker was named the Best Broker in Asia and also received recognition as the Best Forex Trading Platform.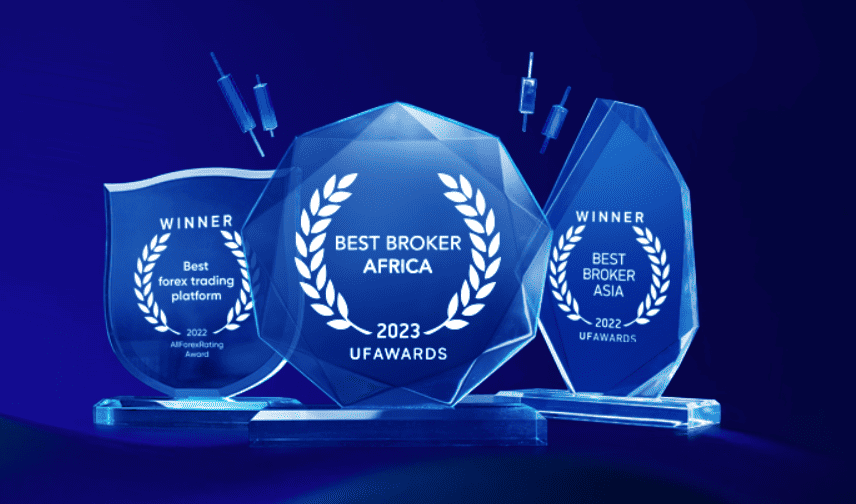 Is JustMarkets Safe or Scam?
No, JustMarkets is not a scam. It is a reliable Forex trading broker that operates under the regulation of the reputable South African FSCA, and European CySEC, and also holds additional licenses. This regulatory body enforces strict rules and guidelines to ensure that the broker operates in a trustworthy manner.
Is JustMarkets Legit?
Yes, JustMarkets is a legit and regulated broker.
Compliance with the regulatory requirements set by CySEC, and FSCA enhances the safety and confidence of traders who choose to trade with JustMarkets.
See our conclusion on JustMarkets Reliability:
Our Ranked JustMarkets Trust Score is 8.5 out of 10 for the good reputation and services provided. However, trading services available for international traders are done via offshore entities as well, which offer lower security levels.
| JustMarkets Strong Points | JustMarkets Weak Points |
| --- | --- |
| Segregated accounts | None |
| Negative balance protection | |
| Data transfer protection | |
| Data storage protection | |
How Are You Protected?
As per our research, at JustMarkets, there are various protection rules applied to safeguard clients' funds as per the regulatory requirement applied, this including segregation from the firm's accounts and refraining from using them for operational purposes. Moreover, the broker offers negative balance protection, which safeguards traders' accounts from going into negative balance during times of market volatility or unexpected events.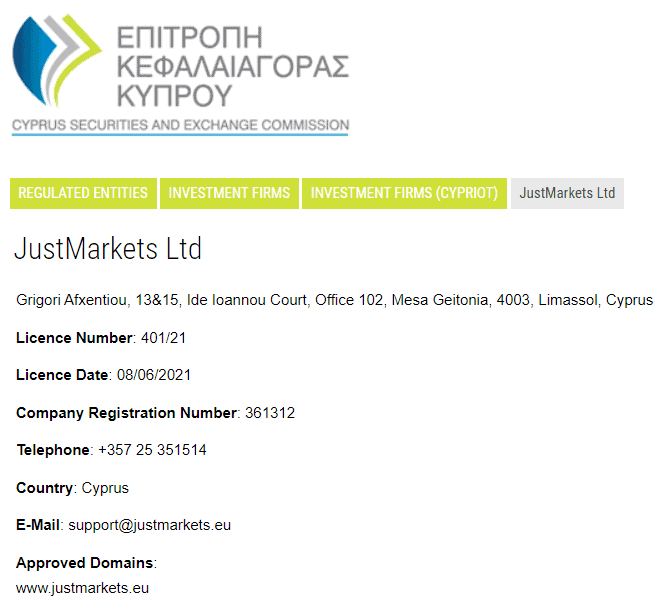 Leverage
Leverage is a valuable tool that allows traders to enter the Forex market with limited capital and expand their market exposure. However, it operates in both directions, which means it can result in substantial profits or losses alike. Therefore, it is strongly recommended to have a comprehensive understanding of leverage before engaging in any trading activities that involve its use.
JustMarkets leverage is offered according to the FSCA, CySEC, FSA, and FSC regulations:
European traders are eligible to use a maximum of up to 1:30 for retail clients and up to 1:300 for professional clients for major currency pairs.
International traders are allowed to use leverage as high as 1:3000
Account Types
After reviewing the broker's account types, we found that on MT4, traders have the option to select from Standard Cent, Standard, Pro, or Raw Spread accounts. On the MT5 platform, the available account types are Standard, Pro, and Raw Spread. Moreover, traders at JustMarkets have the option to convert their trading accounts into Islamic or swap-free accounts.
Yet, the availability of the account types may vary depending on the specific entity. Therefore, conducting thorough research is advised to ensure a comprehensive understanding of the available options.
In addition, new traders have the opportunity to opt for a Demo account free of charge. This allows them to engage in practice trading and trial trades to test different strategies.
| Pros | Cons |
| --- | --- |
| Fast and easy account opening | None |
| Demo and Islamic accounts | |
| Account base currencies USD, EUR, GBP, and ZAR | |
| $1 is the minimum deposit amount | |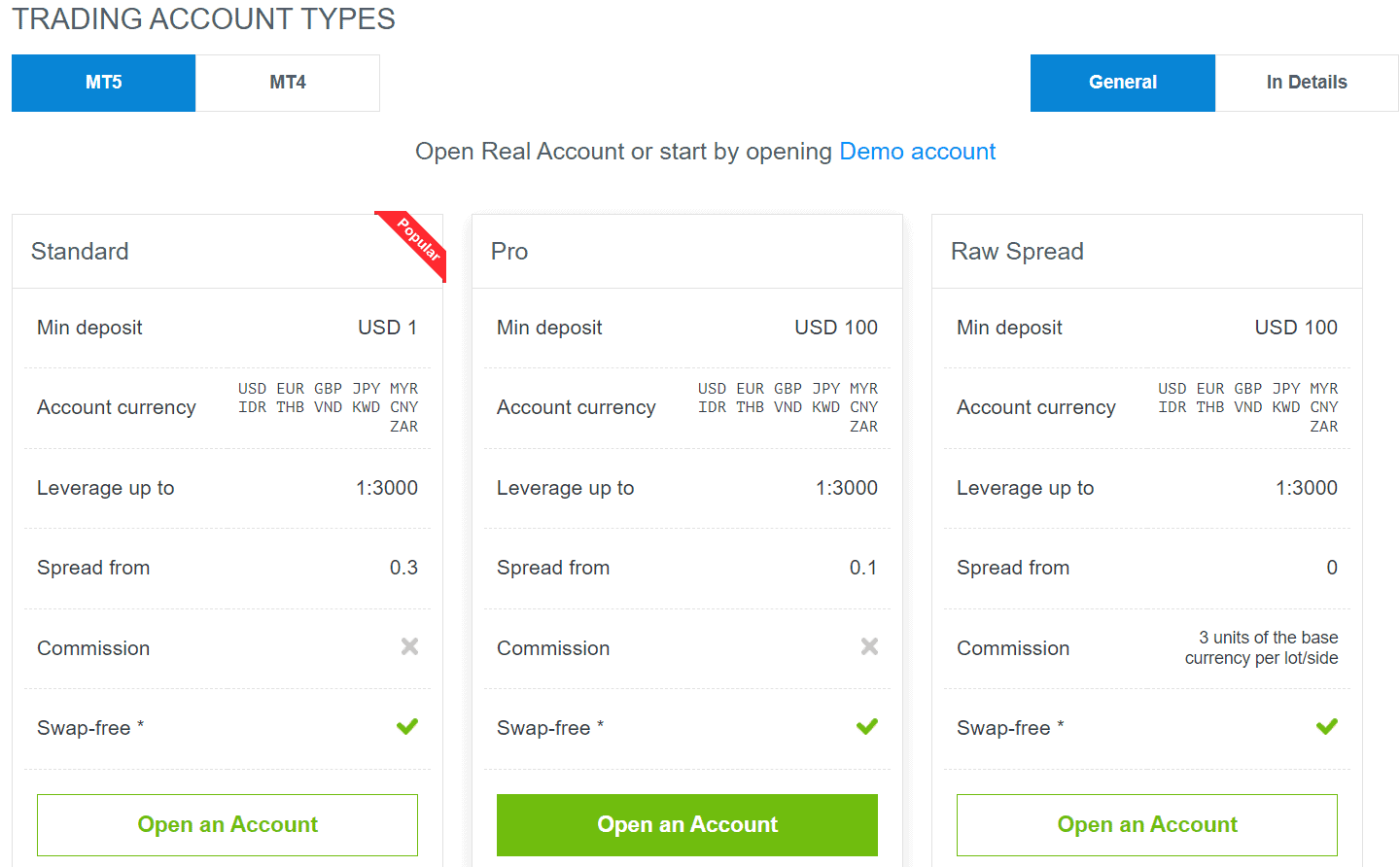 How to Open JustMarkets Live Account?
Opening an account with a broker is quite easy along with JustMarkets Login. You can open it within minutes, just following the opening account or sign-in page on official website and proceeding with the guided steps:
Select and Click on the "Open an Account" page
Enter the required personal data (Name, email, phone number, etc.)
Verify your personal data by upload of documentation (residential proof, ID, etc.)
Complete the electronic quiz confirming your trading experience
Once your account is activated and proven, follow with the money deposit.
No Deposit Trading Bonus
Also, there is quite a pleasunt opportunity to use No Deposit Bonus Program or other programs that Just Markets now offers various promotions to accommodate traders in their trading. However note, conditions vary based on the entity, also some programs might be on a temporary basis so good to check whether you eligable for bonuses or not. See some of the Trading Bonus conditions below, also these bonuses CySEC accounts are not applicable, mainly available for FSA clients only:
To get No Deposit Trading Bonus traders need to open a Welcome Account available for New clients only and trade $30 the way they like (CySEC not applicable. FSA only).
Besides, depending on the deposit amount clients can get up to 120% bonus known as Deposit Bonus. ()
And at last, traders can earn $50 for each friend they successfully Refer to the broker Program
Trading Instruments
JustMarkets provides a range of popular financial markets, which include CFDs on Forex, Gold, Oil, Indices, Metals, Shares, Cryptocurrency, etc. Among these markets, Forex is the most traded that offers exceptional liquidity and the advantage of starting spreads as low as 0 pip. However, the availability of trading instruments may differ depending on the specific entity. Therefore, conducting thorough research is advised to gain a comprehensive understanding of the range of options available.
JustMarkets Markets Range Score is 8.5 out of 10 for wide trading instrument selection overall. However, many popular asset classes, such as futures, and bonds are not available to trade so might be good to consider other Brokers too.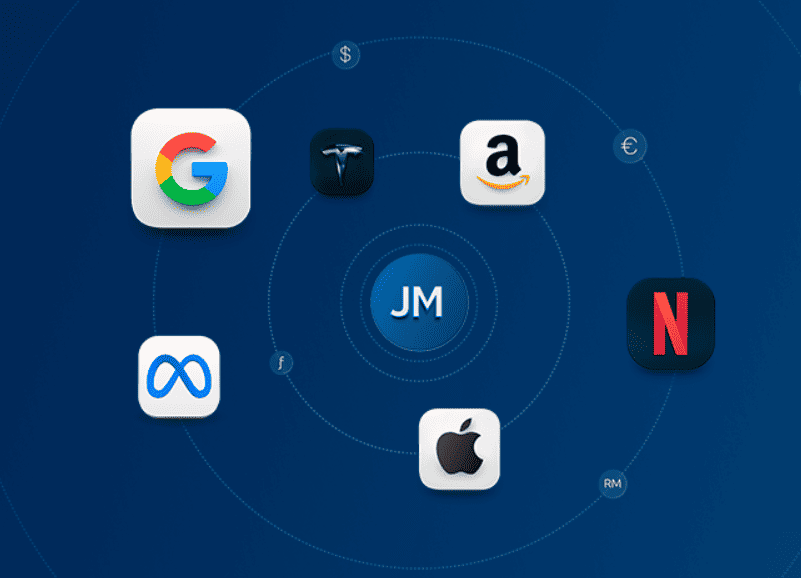 JustMarkets Fees
According to our findings, the broker offers competitively low pricing for its trading activities and does not impose any hidden fees. However, certain charges may be applicable to deposits and withdrawals, depending on the selected funding method and the country of registration. Traders should also be aware that additional fees, such as swap or rollover fees, may be incurred during trading activities.
JustMarkets Fees are ranked low or average with an overall rating of 8.3 out of 10 based on our testing and compared to over 500 other brokers for all fees applied. See more comparison details below:
| Fees | JustMarkets | VPFX Fees | NCM Investment Fees |
| --- | --- | --- | --- |
| Deposit fee | Yes | Yes | Yes |
| Withdrawal fee | Yes | Yes | Yes |
| Inactivity fee | No | No | No |
| Fee ranking | Low/Average | Average | Average |
Spreads
Based on our test trade, JustMarkets provides tight and floating spreads, with an average spread of 0.1 pips for the highly-traded EUR/USD currency pair in the Forex market, which is an attractive option for traders considering the average in the industry at 1.2 pips. The broker also provides competitive spreads for other major currency pairs and popular trading instruments. However, the trading conditions may vary depending on the entity, so conducting thorough research is essential to understand the specific spread conditions in place.
JustMarkets Spreads are ranked low or average with an overall rating of 8.6 out of 10 based on our testing comparison to other brokers. We found Forex spread lower than the industry average and spreads for other instruments are competitive too, which is beneficial for various strategies including Trend Trading or Scalping.
| Asset/ Pair | JustMarkets Spread | VPFX Spread | NCM Investment Spread |
| --- | --- | --- | --- |
| EUR USD Spread | 0.1 pip | 1.2 pips | 2 pips |
| Crude Oil WTI Spread | 3 | 3 | 3 |
| Gold Spread | 4.3 | 1 | 1 |
Deposits and Withdrawals
For funding methods, the broker offers various options for traders to deposit funds into their trading accounts, including bank wire transfers, credit/debit cards, and online payment systems like Skrill, Neteller, Perfect Money, etc. However, specific requirements and limitations for each funding method may vary depending on the financial institution and your country of residence.
JustMarkets Funding Methods we ranked good with an overall rating of 8.5 out of 10. Fees are low, and also you can benefit from various account-based currencies.
Here are some good and negative points for JustMarkets funding methods found:
| JustMarkets Advantage | JustMarkets Disadvantage |
| --- | --- |
| Fast digital deposits | Methods and fees might vary in each entity |
| Multiple account base currencies | |
| Popular funding methods | |
JustMarkets Minimum Deposit
To open a live trading account with the broker, you need to deposit $1 as an initial deposit amount for a Standard account in the South African entity, which is considered a good offering overall.
JustMarkets minimum deposit vs other brokers
| | | |
| --- | --- | --- |
| | JustMarkets | Most Other Brokers |
| Minimum Deposit | $1 | $500 |
JustMarkets Withdrawals
Traders can expect an easy and quick withdrawal process with JustMarkets, enabling them to access their funds efficiently. As we found, the withdrawal requests are typically processed within 1-2 hours for most withdrawal methods.
How Withdraw Money from JustMarkets Step by Step:
Login to your account
Select Withdraw Funds' in the menu tab
Enter the withdrawn amount
Choose the withdrawal method
Complete the electronic request with necessary requirements
Confirm withdrawal information and Submit
Check the current status of withdrawal through your Dashboard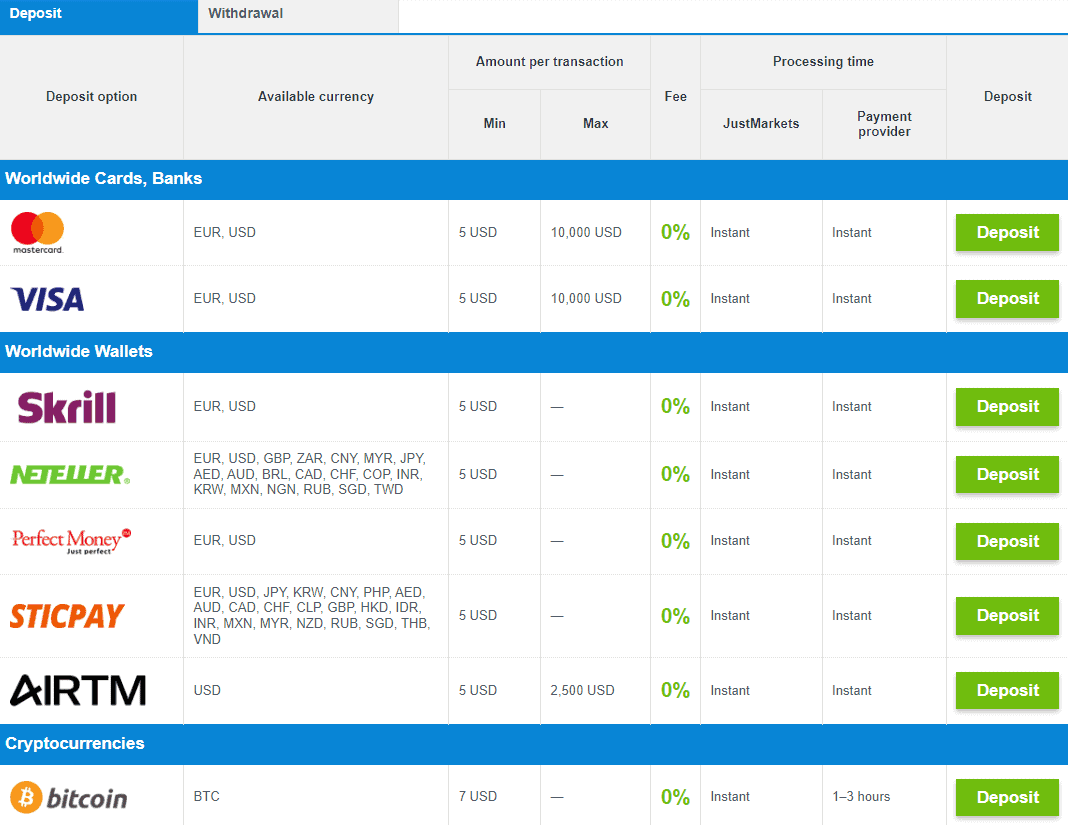 Trading Platforms
South African entity traders have access to two popular and widely-used trading platforms, MetaTrader 4 and MetaTrader 5, which are renowned for their user-friendly interfaces, wide range of features, and the ability to engage in automated trading. As per our findings, the platforms are available via web, desktop, and mobile devices, enabling traders to stay connected to the markets and trade conveniently at any time.
JustMarkets Platform is ranked good with an overall rating of 8.9 out of 10 compared to over 500 other brokers. We mark it as good since it offers the popular MT4 and MT5 professional trading platforms.
| Platforms | JustMarkets Platforms | VPFX Platforms | NCM Investment Platforms |
| --- | --- | --- | --- |
| MT4 | Yes | Yes | Yes |
| MT5 | Yes | Yes | Yes |
| cTrader | No | No | No |
| Own Platforms | No | No | No |
| Mobile Apps | Yes | Yes | Yes |
Trading Tools
According to our analysis, the broker offers a diverse range of trading tools and solutions which include advanced charting features with multiple chart types, various timeframes, trading signals, an economic calendar, and technical indicators. Additionally, the MetaTrader platforms facilitate automated trading with the help of Expert Advisors (EAs) and algorithmic trading.
JustMarkets also integrates a Multi Account Manager (MAM) software, enabling money managers to efficiently execute bulk orders across an unlimited number of accounts.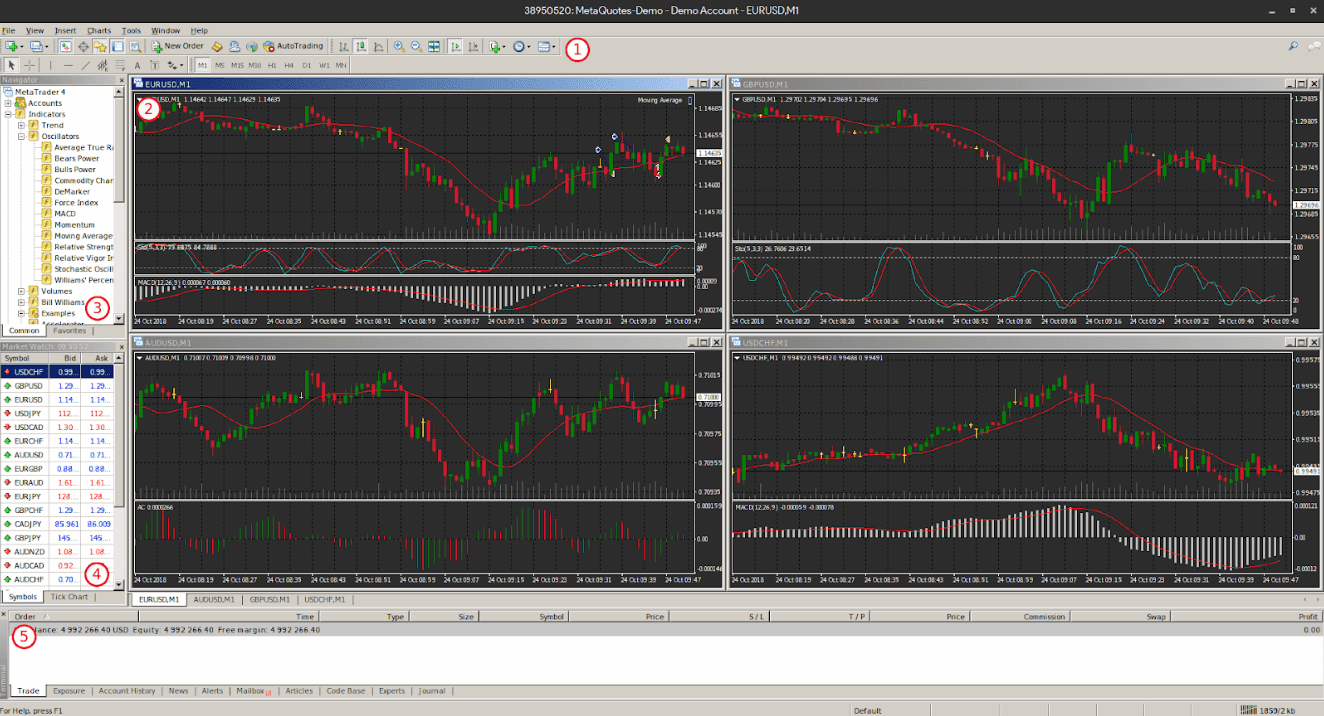 Customer Support
The broker provides 24/7 multilingual customer support through Live chat, Email, Phone, and Social Media. The experienced trading specialists are readily available to assist traders with a wide range of matters, including technical issues, market analysis advice, general inquiries, and other different concerns.
Customer Support in JustMarkets is ranked good with an overall rating of 8 out of 10 based on our testing. We got fast and knowledgeable responses, and also it is easy to reach during the working days and the weekends.
See our find and ranking on Customer Service Quality:
| Pros | Cons |
| --- | --- |
| Live chat, phone support, email, social media | None |
| 24/7 customer support | |
| Quick responses | |
| Relevant answers | |
JustMarkets Education
We noticed that the broker offers comprehensive educational and research materials on its website including webinars, Forex articles, educational videos, daily forecasts, economic calendar, market news, and more.
Moreover, JustMarkets offers a demo account feature that enables traders to practice their trading strategies in a risk-free environment without using real money.
JustMarkets Education ranked with an overall rating of 8 out of 10 based on our research. We found that the broker offers good-quality of educational materials and analysis.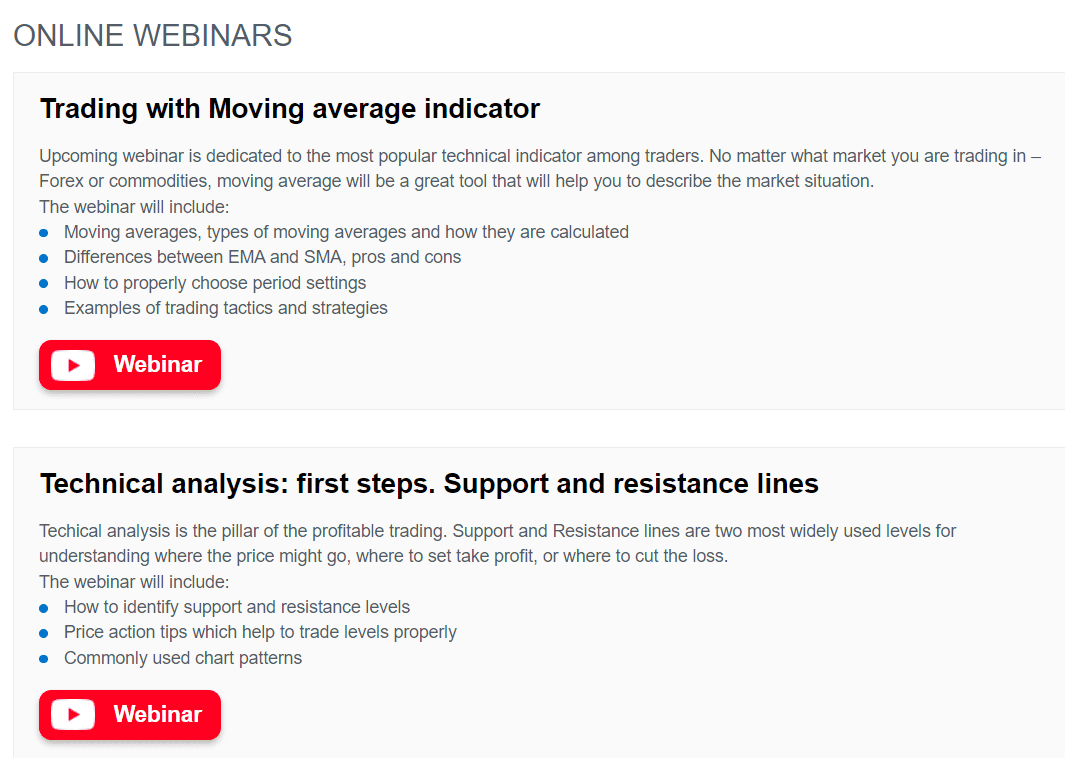 JustMarkets Review Details
Germany
Italy
Malta
Montenegro
Netherlands