Our Review Method for EightCap
Our team of highly experienced Forex Trading experts, with over a decade of industry knowledge, conducts a comprehensive evaluation of EightCap. We leave no stone unturned, thoroughly examining trading conditions, regulatory compliance, fees and spreads, platform capabilities, customer service, and even engaging in live trades to gain an in-depth understanding of EightCap's offerings. Our goal is to provide you with expert insights into the world of EightCap.
Pros
Regarded broker with good reputation
Wide range of instruments available
Low Spreads for Forex
Good Platform selection
Professional Research
Cons
Conditions and trading costs vary according to entity
Education is limited
No 24/7 Support
Who is Eightcap?
Eightcap is an Australian incorporated brokerage company, Forex and CFD Broker which brings a transparent pricing model since 2009 through low rates of variable spreads with quotes that are coming from numerous leading banks or institutions and performed via technological solutions through Equinix servers.
Where is EightCap based?
Eightcap performs a global operation through their reputable Australian HQ and other international office based in the Bahamas. Eightcap maintains a home for MT4 and MT5 traders and aims to provide them with a personalized trading experience. This broker gives access to the most popular financial instruments, all with rapid execution and low spreads, via the award-winning MetaTrader platforms.
Apart from offering to retail clients, this broker also brings technological advantages and partnership opportunities to affiliates, IBs and influencers.

EightCap Pros and Cons
EighCap is a reliable broker, also provides good technological base for trading, costs are good and there is great research included in MT4 platform. Instruments are widely presented, and you can withdraw fund using various methods, which overall is quite a good established offering with our opinion.
From the negative points, there is no good learning materials essential for beginners, also no 24/7 support centers, besides mainly accounts are opened under Bahamas entity which does not provide high customer security like ASIC based EightCap.

| Advantages | Disadvantages |
| --- | --- |
| Regarded broker with good reputation | Conditions and trading costs vary according to entity |
| Wide range of instruments available | Education is limited |
| Low Spreads for Forex | No 24/7 Support |
| Good Platform selection | |
| Professional Research | |
EightCap Review Summary in 10 Points
| | |
| --- | --- |
| Headquarters | Australia |
| Regulation | ASIC, SCB |
| Platforms | MT4, MT5 |
| Instruments | Currencies, oil, gold, silver, global indices, shares and cryptocurrencies |
| EUR/USD Spread | 1.0 pips Standard Account |
| Demo Account | Provided |
| Minimum deposit | 100$ |
| Base currencies | USD, AUD |
| Education | Analysis and research |
| Customer Support | 24/5 |
Overall EightCap Ranking
With our Expert finds and overall review EigtCap proposal is quite good for Forex or CFDs traders. We found good technology provided, low spreads compared to industry offering and overall good trading conditions.
EightCap Overall Ranking is 8 out of 10 based on our testing and compared to over 500 brokers, see Our Ranking below compared to other industry Leading Brokers.
| Ranking | Eightcap | InstaForex | FBS |
| --- | --- | --- | --- |
| Our Ranking | | | |
| Advantage | Low Fees | Low Deposit | Low Spread |
Eightcap Alternative Brokers
Yet, we found some disadvantages too, Eighcap mainly opens accounts under International entity where safety conditions are lowered, also offering might not be the best for very beginners since education is limited compared to other brokers. So it is good to consider other brokers too, see our selection of Alternative Brokers below:
Is Eightcap safe to trade with?
EightCap is not a scam, it is a low-risk trading broker due to a strict regulatory or compliance culture done by a reputable license and follow of regulations set by the Australian Securities and Investments Commission ('ASIC'), a recognized world authority that regulated Forex and trading industry.
Our conclusion on EightCap Reliability:
Our Ranked Eighcap Safety Score is 8 out 0f 10 for good service along the years and excellent service via an Australian entity. Yet, international traders are operating via offshore zone with lower requirements. So, we advise open an account at EightCap ASIC regulated for better safety.
| EightCap Strong Points | EightCap Weak Points |
| --- | --- |
| License from Australia ASIC | International Trading under Offshore regulations |
| Negative Balance Protection applied | Safety measures vary based on entity |
| Customer Protection | |
| Good Reputation | |
Is EightCap available in Nigeria?
Since Eightcap serves an additional entity that serves global clients from its offshore branch based in the Bahamas almost all International traders including Nigeria can open account under this entity. Of course, we do not recommend trading with solely offshore brokers, however, since Eightcap also follows reputable license from ASIC it means the broker is sharply regulated in terms of its operation.
Australia regulated entity EightCap meets the highest standard of corporate governance, financial reporting, and disclosure. All retail client funds are kept separately from business funds in segregated bank accounts with AA-rated banking institution. Furthermore, EightCap undertakes additional protection by the professional indemnity insurance policy which all in all brings you a clear state of mind and trustable cooperation.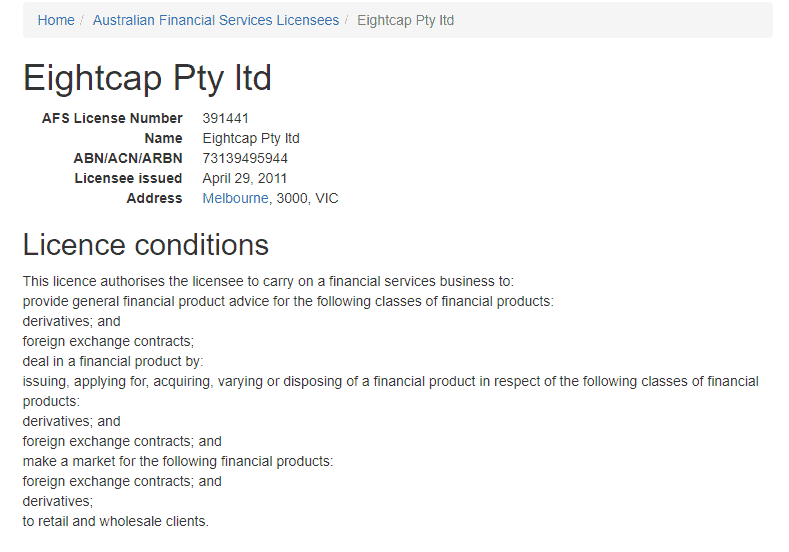 EightCap Leverage
One of the great features of Forex trading is an allowance to use leverage, which may increase your potential gains timely. However and in order to help traders in minimizing risks, which of course requires you to study well how to use leverage smartly.
Eightcap Leverage has specific restrictions according to the trading size you operate and entity you trade.
Eightcap Australia allows leverage of up to 1:30
International Traders may access high leverage
Account types
EighCap 2 account types offer of a simple choice between two accounts, either trade with Standard conditions with no complications all built into a spread or through Raw Account with spreads from 0.0 pips and commission for professional traders. See some of our finds below:
| Pros | Cons |
| --- | --- |
| Fast digital account opening | Conditions vary based on entity rules |
| Options between Spread only or Comission based Accounts | |
| Demo Account | |

Trading Instruments
The trader has access to over 1000+ financial instruments, including major and minor currency pairs, oil, gold, silver, shares and cryptocurrency CFDs.
The broker also constantly expanded its prooposal, like we saw it add now Stock CFDRange by adding ASX Share CFDs, NASDAQ Share CFDs, NYSE Share CFDs, LSE Share CFDs, German Share CFDs.
Eighcap Instrument Score is 8 out 0f 10 for good trading instrument proposal and constant improvement and adding new instruments. However, we see the range of instruments is different based on entity.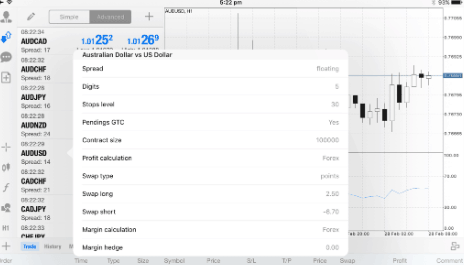 Eightcap Fees
EighCap fees mainly built into a spread if you use Standard account or into a commission basis for Raw accounts. However, for full fee structure refer to the comparison table below and see all applicable fees for EighCap, see our find below.
Also, always consider overnight fee as a cost also referred to as Rollover rate, an interest for holding positions open overnight in foreign exchange trading. It is determined by the overnight interest rate and is a differential between two involved currencies and affected whether the position is a buy 'long' or sell 'short'.
Eightcap Fees are ranked good with overall rating 8 out of 10 based on our testing and compared to over 500 other brokers. Overal fees are good, some deposits and withdrawals are free, but we recommend checking entity rules
| Fees | Eightcap Fees | FXTM Fees | Fortrade Fees |
| --- | --- | --- | --- |
| Deposit Fee | No | No | No |
| Withdrawal Fee | No | No | No |
| Inactivity Fee | Yes | Yes | Yes |
| Fee ranking | Low | Average | High |
Spreads
EightCap spreads are designed for the account you use, while Standard account offers slightly higher spreads with no commissions and Raw account allows enjoying interbank spread but with commission per trade.
As we found, EightCap brings nice costs with the typical spread for EUR/USD standard 0.8-1.2 pips and raw spread of 0.0-0.3 pips, or with a spread for metals XAU/USD 20-30 cents.
For instance see below a comparison of the spread offering, as well you may compare EightCap fees to another popular broker FBS.
Eightcap Spreads are ranked average with overall rating 9 out of 10 based on our testing comparison to other brokers. Broker indeed brings excellent costs with the typical spread for EUR/USD at a standard 1.0 pips, as well as a raw spread of 0.0 pips. The spread for metals XAU/USD sits at 1.0 pips.
| Asset | Eightcap Spread | FXTM Spread | Fortrade Spread |
| --- | --- | --- | --- |
| EUR USD Spread | 0.8 pips | 1.5 pips | 2 pips |
| Crude Oil WTI Spread | 4 pips | 9 pips | 4 pips |
| Gold Spread | 4 pips | 9 | 45 |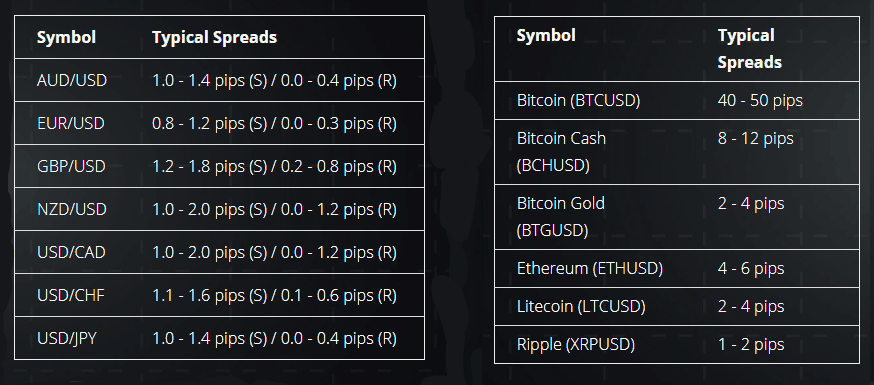 Payment Methods
The number of payment methods to fund the trading account which allows you to transfer from Demo trading to Live one including instant deposits through Visa/MasterCard, Skrill, POLi Payment, Neteller, China UnionPay and Bank Wire Transfers.
EightCap Funding Methods we ranked Good with overall rating 9 out of 10. The Minimum deposit is not setm so traders can start with any ammount which is great, also international trading supports numerous methods with low fees, while European is rather a modest offering only most used and regulated ones, but still conditions are good with our opinion.
Eightcap clients can now make Crypto deposit via BTC and USDT on USD accounts only.
While you may choose at your convenience a base account currency either AUD, USD, GBP, EUR, NZD, CAD and SGD, the deposits and withdrawals will be respectively made in the same currency as the base of trading account.
Here are some good and negative points for EightCap funding methods found:
| Eightcap Advantage | Eightcap Disadvantage |
| --- | --- |
| Various Deposit and Withdrawal methods supported | Methods vary according to entity |
| Multiple Account Base Currencies | Withdrawal fee may be applicable due to regional laws |
| PayPal Deposit and Crypto Deposits accepted | |
| Withdrawal requests processed quickly | |
EightCap Minimum deposit
Minimum deposit is 100$ at EightCap for both account types offered. Also, EightCap does not charge any internal fees for deposits or withdrawals, yet you should note that payments from non-Australia banks may be subject to bank fees and is solely your responsibility.
EightCap minimum deposit vs other brokers
| | | |
| --- | --- | --- |
| | EightCap | Most Other Brokers |
| Minimum Deposit | $100 | $500 |
Withdrawals
EightCap withdrawal options including bank transfer, debit cards and ewallets. There is no fee for deposits and withdrawals, meaning you can easily manage fundings, yet make sure to deposit in your account base currency to avoid conversion. See Card Depositt comparison below: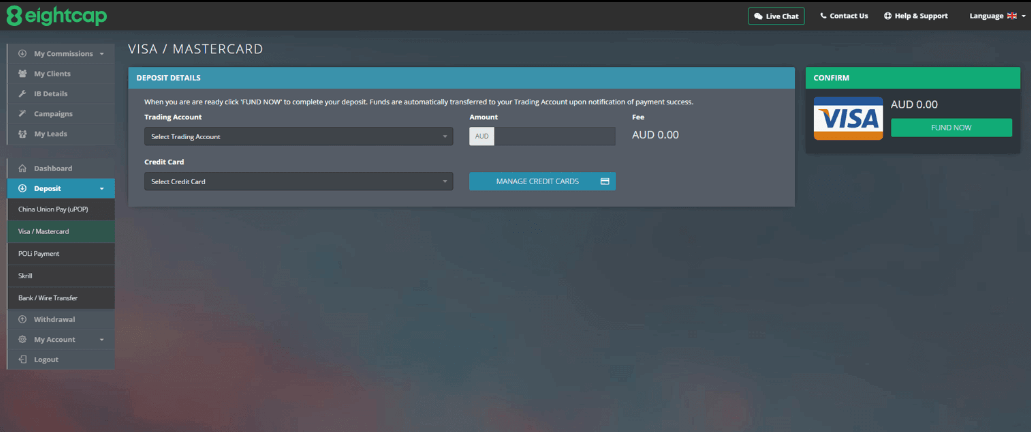 Trading Platforms
With Eightcap, the trader will have access to MetaTrader 4 and the newer MT5 platform, which has numerous advanced features and tools. Also, Traders now have an access to TradingView, which enables traders to set up a multi-monitor workspace.
Scores & Availability of different platforms
Eightcap Platform is ranked Good with overall rating 9 out of 10 compared to over 500 other brokers. We admit good selection with popular MT4, MT5 also its own platform included, while software is user friendly and there is no restrictions on strategies.
| Platforms | EightCap Platforms | InstaForex Platforms | eToro Platform |
| --- | --- | --- | --- |
| MT4 | Yes | Yes | No |
| MT5 | Yes | Yes | No |
| Own Platform | Yes | Yes | Yes |
| Mobile App | Yes | Yes | Yes |
Desktop Platform
The proprietary developed platform is available for desktop and mobile apps with the same capabilities to view prices in real-time, monitor or access an account, and enable chat and push notifications.
What we found as great, MT4 provides all the necessary tools and resources that are essential for successful trading, with a range of indicators, and strategies to use.
Furthermore, Eightcap users will also have the ability to automate their trades without any coding knowledge. With the use of capitalise.ai Eightcap users will have access to automation and analytic tools, including backtesting, loop strategies, smart notifications, and much more.
Besides, all trading styles are accepted, with no restrictions to use EAs or other strategies, also with flexible lot sizing and high leverage options. Regardless of the account type all traders will have the same professional conditions to trade, as well as support from the company for any requirement.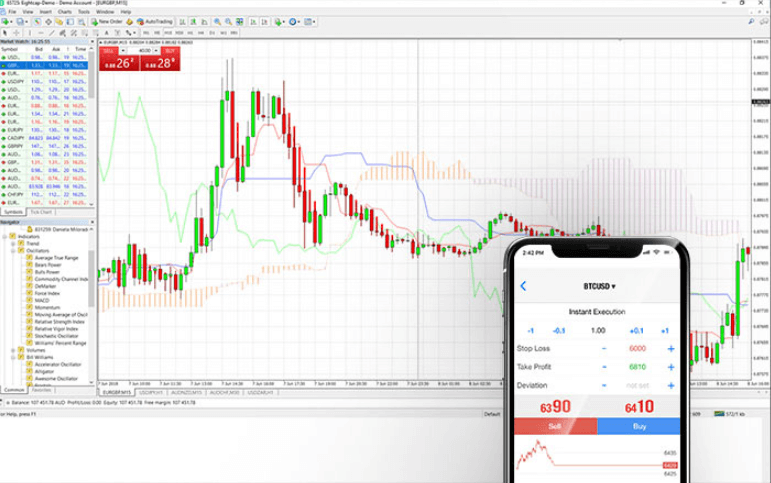 Customer Support
EightCap provides 24/5 customer service available via various service centers and various methods inlcuding Live Chat and Emails, also we found team quite responsive.
Customer Support in EightCap we rank Good with overall rating 8 out of 10 based on our testing. We found customer team responsive, also supporting various languages
See our find and Ranking of EightCap Customer Service Quality:
| Pros | Cons |
| --- | --- |
| Availability of Live Chat, Email and International Phone Lines | No 24/7 support |
| Quick response | |
| Relevant Answers | |
Education
Based on our finds Eightcap provides some education but mainly analysis and quite good research tools. For education itself it is limited to platform guides and overview of strategies, while research is good with numerous tools included.
Eightcap Education ranked with overall rating 7 out of 10 based on our findings, so compared to other brokers education is limited and does not include good Trading Academy like other brokers have, which is more suitable for beginning traders so. However, research is good at Eighcap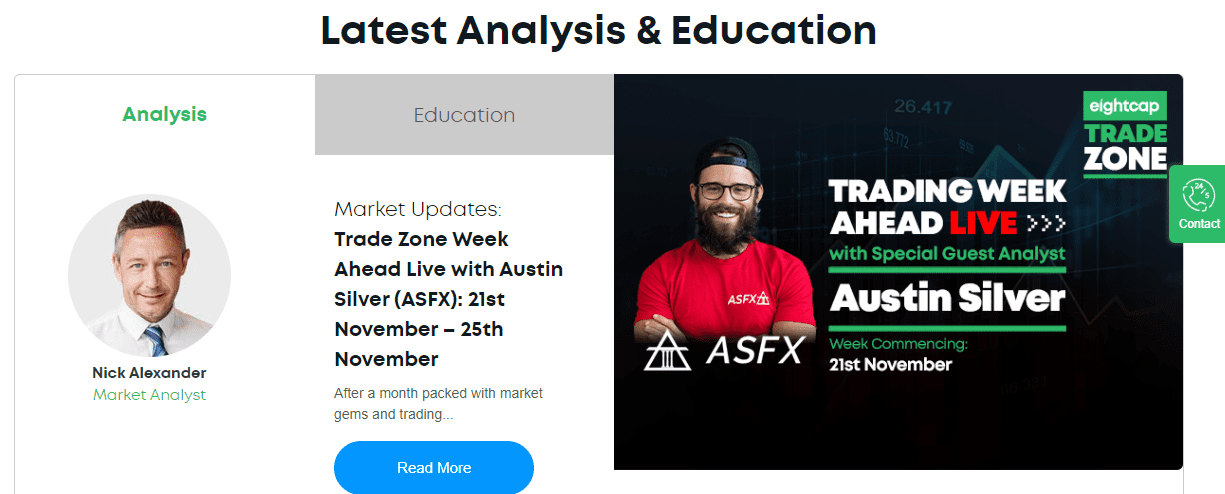 EightCap Review Conclusion
EighCap stands as a trusted and regulated trading service provider with good business model built on simple trading without making choices complicated or confusing, yet providing good conditions. Their main offering is the technological solution of execution trough powerful servers with centralized integration, we found competitive pricing provided by leading institutions and access through the powerful features of popular platform MT4 along with accounts suited for various strategies.
While the only gap is deep learning materials which company does not provide, however, their support centers are showing great performance also Analysis is quite professional one.
Based on Our findings and Financial Expert Opinion EightCap is Good for:
Forex Traders
Traders who prefer MT4 or MT5 platform
EAs running
Long Term Trading
Raw Spread Trading
Trading Analysis
Traders with Variety of Trading Strategies

Eightcap Review Details
Norway
Russia
Spain
Sweden
Thailand